25 MICE Professionals took charge to showcase the new world of safe meetings during the first physical event of Mice Club (A Business Networking Club).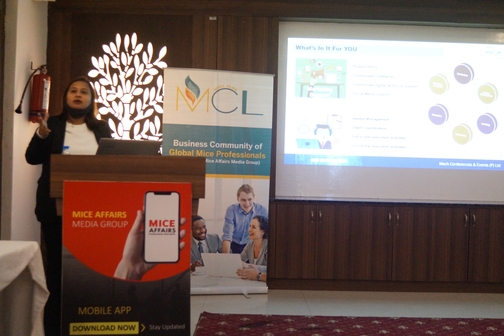 Safety, Security, and Precautions are the latest buzzwords in the new era of the ongoing pandemic. While the situation is still not clear post-second wave as to what the future beholds for the MICE business, MCL has initiated the idea of staging Safe Meetings, not through virtual interaction rather showcasing the same in a practical manner. The event was by invitation only, inviting limited numbers of participants, who were willing to share their key thoughts and ideas, support the mission and also discuss openly the need of the hour.
MCL 1.0 Face to Face Meeting, organized at Queen of Hills, Mussoorie, in Uttrakhand Province, which itself is a top Mountain Destination for Small and Mid Scale MICE groups. The meeting turned out to be possible with great support from Equifax Tourism, Mach Conferences, DomesticWaale and DLS Group of Hotels.
The Event was organized in Hybrid format following the new normal of events, where corporate buyers shared their views, key insights and plans to reopen MICE events. Paul Colston from Mash Media Group, UK enlightened the audience with key updates involving the UK Mice market. Rohit Jain from Equifax Tourism Dubai, interacted virtually with all key delegates present at the meeting physically.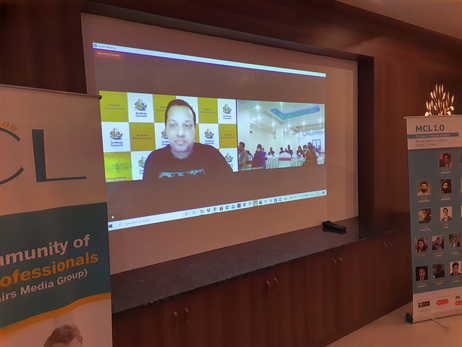 Welcoming the delegates, Saachin Mannocha, Group CEO, Mice Affairs Media Group, stated the vision behind MCL formation and the key objectives of the physical meet. Sachin stated " The idea of this meet is to create a backdrop of safe meetings. Limited numbers, safety and precautionary measures are the tools to execute Safe Meetings. Also, it's a unique opportunity to shake hands for business transactions at MCL. Let's move ahead towards restart.
Mach Conferences presented their unique business model B2B MICE in front of MICE Professionals, where small and mid-scale agencies could shake hands with them, leaving the burden of infrastructure and human resource cost involved in execution of MICE projects. Paul Colston, Managing Editor, Mash Media group UK shared the key updates from UK market with all delegates present in the meeting via virtual presence.
Rajesh Ambokar, Head Administration, Ambuja Cements, shared the Corporate Inside Story during the Corporate Dialogue Session. Session was quite interesting as it created a direct platform of interaction between Corporate Buyers and MICE agencies enabling both the parties to discuss the future plans.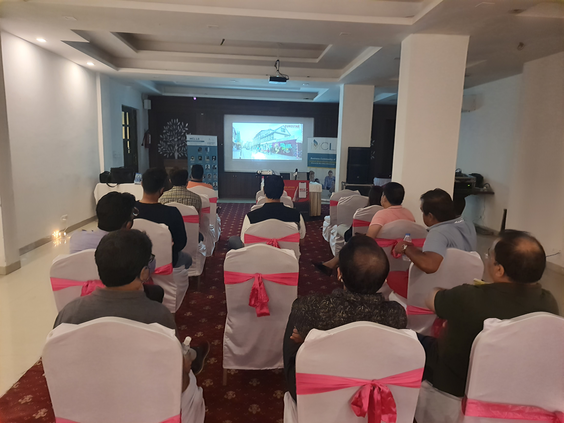 Mach Conferences presented a unique B2B Model for MICE Agencies to colaboaret for ICE Projects in the new normal, which was very well appreciated by all participants. Case STudy shared by Pawan from Adiona Travels updated the MICE audience on smartly managing MICE Business with challenges of new norms.
Evening saw the professionals enjoying the weather and beautiful hill top locations, during the networking dinner organized at the roof top open air restaurant of Hotel Highland Mussoorie. A Cake cutting ceremony was also organized to commemorate the one year of MCL formation.
Casual discussion over the table unveiled several case studies of MICE Business. MCL 1.0 Meet had a specially curated session "MCL Open House" which was really welcomed by all, as it turned out to be a knowledge sharing and idea building session for everyone present during the meeting.
Commenting on the success of event, various participants shared honest and the most practical feedback stating:
Kavita Harish, Mach Conferences
At the outset a big thank you to Sachin – MCL 1.0 , Imran Khan to take the first step towards getting trade partners together with hoteliers and corporate on one platform and give us a comfort that yes PANDEMIC is over and out !!!
The platform was well defined to voice views and share experiences from we travel agents , hoteliers and corporate sides . The entire management of the event from choosing the location to hotel and attendees was well managed and we look forward to making this a larger platform with more participants across the globe Thank you sachin on behalf of MACH CONFERENCES & look forward for more interacting sessions to come !!!
Rajesh Raghavan, TNEBeing spent more than two decades in Travel Industry, first time ever we are experiencing such unprecedented time. Never Seen Never Experienced and once this phase gets over I wish we should be able to get back to some good times.
In such difficult scenario one person who consistently kept his faith and took small steps in building the confidence among all of us is Mr. Sachin Manocha, MICE Affairs. It is not easy to bring in 15-20 MICE Professionals n Corporate Executives together during such time. He did it and made it effective by keeping things very simple.
Most of the times when we participate in big conferences, attention and effectiveness go away but here we all managed to share and experience things in very constructive manner.
Made good friends and revived old relations and hoping we would do such more meets where we all can benefit.
Thank you DLS Hotels & MICE Affairs for making it happen.

Rajesh Ambokar, Head Administration, Ambuja Cements

Thank you very much for inviting me as Special Guest speaker in MICE Club,s first physical meet in panel, it's business Tourism discussion, aimed at bringing together top professionals from every sector in an enhanced, tailor-made hospitality setting, I was delighted to be there and to be given this opportunity to speak about the important updates on MICE for corporate sectors
It's a great honour, particularly to interact with industry leaders. I would like to thank Mice Affairs Media Group India for their work and for hosting this valuable event.


Rohan manocha, DLS HotelsOn behalf of DLS Hotels I would like to thank all of you for giving us an opportunity to serve you. It was a great experience for us to learn so much from the experts of this Industry. I would really like to thank Mr Sachin Manocha and Mr Imran Khan for this Opportunity

Partha Satpathy , 5D Global Tarvel Solutions
Enormous and most sincere thanks for MCL 1.0. It was a nice tool full of inspiration, hope, sincerity & encouragement. Really appreciate the wealth of knowledge and insight that was exchanged. I really appreciated hearing the MICE planners coming together in the creative process and it has reinvigorated my confidence to plan our work with help and support from the MCL community in the coming days. It has opened our minds to collaboration and exchange of knowledge and ideas. Many ideas that were said during the sessions were very logical and straightforward. It was very interactive, which profited all the participants enormously! Looking forward to MCL 2.0 in NCR region soon with more experienced and younger talents.
Shirin, Zest Travels
The MCL 1.0 meet at DLS Hotels , Mussorie was outstanding. Zest Journeys would like to thank Mr Imran Khan , Mr Rahul and Rohan Manocha brothers for hosting us . A big congratulations to Mr Sachin Manocha who did a superb job in organizing a smooth and successful event during this Pandemic with utmost safety and precautions.
Mix of travel companies and corporates helped us in having an insight of the market situation from both sides. Along with the well prepared presentations given by travel companies , the real life experiences shared by proficient participants during the session were enriching , helpful and relevant.
The venue HIGHLAND HOTELS is very well located with stunning mountain views and weather played an excellent role in enhancing the experience. Networking Dinner at the hotel terrace /deck worked well.
Hope we continue such events in future and thank you again for making it a worthwhile experience.
Dhiren Sirohi, Kolormice
Few unique highlights of this meet :- Though this meet has been termed as MCL 1.0 as it was 1st of its kind.But majority of attendees belonged to MICE 2.0 fraternity. Young mice entrepreneurs with fresh mindsets.Be it the host, sponsors,MICE companies/representatives, DMCs and above all CEO Mice Affairs Media! 😊 .This never before meet has broken a typical traditional mindset among MICE players of not sharing their knowledge/expertise.Simple principle is , if you don't share, u don't gain also.Operational challenges shared by Pawan while executing Srinagar Group in an open forum was not only gutsy but enlightening too.The overall beauty of MICE club is that everyone feels a natural ownership to the cause in larger interest. Thanks to Mr.Sinha,Mr Antal,Mr.Yadav,Rajesh,Partha and everyone for sharing highly analytical insights from both sides of the table.The zeal shown by hosts & sponsors like Manocha brothers,Imran was tremendous.Overall, a small but pretty crucial & visionary beginning for MICE industry! Thanks t
MCL 2.0 shall be announced soon with the renewed theme and participation.